Diplomate of Acupuncture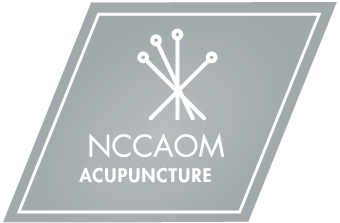 A Diplomate of Acupuncture is an acupuncturist who is certified by the National Certification Commission for Acupuncture and Oriental Medicine (NCCAOM®). It is a considerable professional achievement to earn the designation Diplomate of Acupuncture (NCCAOM). NCCAOM certification indicates to employers, patients, and peers that one has met national standards for the safe and competent practice of acupuncture as defined by the acupuncture and Oriental medicine (AOM) profession. For additional information, about the Diplomate of Acupuncture, please visit the NCCAOM Website.
Specialist in Oncology Acupuncture
Graduates of TCM Academy's Oncology Acupuncture Program are equipped with the specialist skills necessary to support cancer survivors at all stages of their cancer journey. They have a fundamental understanding of cancer from western and Chinese medical perspectives and the ability to support patients undergoing western treatments and cancer survivors.
Earners of this badge have completed 50 hours of learning western medicine concepts of cancer development, diagnosis and treatment, Chinese Medicine view and treatment of cancer, and they are familiar with the latest research in the field. Qualifying graduates of this program have demonstrated a thorough understanding of Oncology Acupuncture. Submitted assessments included a research review and patient case study. For additional information about the Specialist in Oncology Acupuncture, please visit the Oncology Acupuncture International Program.
Balance Method Acupuncture - Certification in Process
Donald Charlson is the first Licensed Acupuncturist in Maine to be accepted into the prestigious certification process with The Academy of Acupuncture. The Balance Method Acupuncture tradition was popularized by the late Richard Teh-Fu Tan and the certification is a multi-year process involving formal education, presenting case studies, internship and applying Balance Method Acupuncture in a clinical setting.